BC Rugby's Provincial Regional Championships (PRCs) return in July 2023 for what should be an action-packed weekend. 
The 2023 Provincial Regional Championships will take place July 7-9, 2023 at UBC's Gerald McGavin Centre. The famous BC Rugby weekend features the best youth Rugby players in BC suiting up for their respective regional teams.
For emerging Rugby players, this tournament presents a perfect opportunity to impress any watching BC Rugby Age-Grade Team Coaches and make a bid for selection to the BC Bears.
BC Rugby acknowledges the 2023 PRCs will take place on the traditional, ancestral, and unceded territory of the xʷməθkʷəy̓əm (Musqueam) First Nation.
Click on the topics below to explore more information:
Tournament Package, Declarations & Law Variations
Player Registration and Exemptions
We gratefully acknowledge the financial support of the Province of British Columbia.
Location: UBC, Gerald McGavin Rugby Centre, 2765 Westbrook Mall, Vancouver, BC
Dates: Friday, July 7 to Sunday, July 9 2023
Accommodation: Totem Park Original Houses will be the primary accommodation for all Teams.
Parking: The primary parkade is Thunderbird Parkade (paid parking), located at 6085 Thunderbird Blvd, University Endowment Lands, BC V6T 2A1. It is a 10-minute walk from the Residence and a 5-minute walk South to the Fields.
A full event schedule, including Pools and Playoffs, can be viewed or downloaded by clicking here. 
U14 Teams
1 Day of Skills Development and Tourney preparation
2 Days of Competitive Matches
Skills Session Times
Below are the U14 skills session times for the different Regional Unions
Thursday July 6 @ 5pm – Vancouver Rugby Union Central
Friday July 7 @ 10am – North Vancouver Island Rugby Union and South Vancouver Island Rugby Union
Friday July 7 @ 1:30pm – Fraser Valley Rugby Union
Friday July 7 @ 3:15pm – Vancouver Rugby Union North, Vancouver Rugby Union South and Thompson Okanagan Regional Alliance
Eash session will last approximately 1.5 hours
Skills Session Key Focus Areas
Below are what teams can expect to cover in the Skills Session:
Tracking and Tackling
Catch Pass Mechanics
Running Lines/Decision Making
We are encouraging all PRCs U14 coaches to come and be involved to understand the direction and what we will be focussing on in our BC Bears Programs.
U16 & U18 Divisions
3 Days of Competitive Matches
The 2023 PRCs will be live-streamed by BC Rugby -all matches on Field 1 and Field 3 will be streamed.
To watch the livestream, you will need to download the VEO Live App below:
Once you have downloaded the app, follow these instructions:
Create free VEO Live Account
Search "BC Rugby" and follow the profile
Select which stream you wish to watch
Click here for more information on watching a VEO Live Stream. 
You can also cast the feed to a larger screen or device.
We anticipate the following regions to compete at the 2023 PRCs: Fraser Valley Rugby Union, North Vancouver Island Tsunami, TORA (Thompson/Okanagan), Vancouver Island Tide and the Vancouver Rugby Union (VRU – Central and North)).
Key information on each region can be found below:
North Vancouver Island Tsunami
TOURNAMENT PACKAGE, TEAM DECLARATIONS
&

LAW VARIATIONS
Regions are now able to submit Boys and Girls team declarations for the following divisions:
U14 (birth years 2009-2010)
U16 (birth years 2007-2008)
U18 (birth years 2005-2006)
To submit team declarations for the 2023 PRCs, please fill out this form. Regions will be invoiced based on their declarations in the form.
All Regions must submit their team declarations no later than June 9, 2023.
Please ensure you have a list of all teams your region wishes to participate in. Regions may submit Girls, Boys or Sub-Region teams separately. Please review the PRCs pre-tournament package before declaring.
You can keep up to date with all results and Pool standings by visiting the BC Rugby Fixtures Page or downloading the free BC Rugby App, available on Apple and Android phones.
The BC Rugby app also features important Safe Sport information, such as Concussion protocol and Mental Health Resources in BC.
Click below to download the BC Rugby App based on your operating system!
For 2023 PRCs, we ask that each player is registered with the relevant regional union. This will ensure that every participant has the necessary insurance, as well as allowing for the game management system within Sportlomo to be utilized.
Players Not Registered
If a player is not yet registered with BC Rugby, they can register here through their respective regional union.
Players Registered with BC Rugby – No Club Affiliation
If a player is registered with BC Rugby – No Club Affiliation, they must transfer to their regional union. Players can use this resource to help with player transfers.
Players Registered with a Member Club
Players who are affiliated with a Member Club must request a dual membership with their  regional union. Please follow the steps below:
STEP 1
The player must first log into their Sportlomo account.
On the home page of their account, there will be a Membership box with the Membership details. There are six green buttons below the participant's name.
Click the "Dual Membership" Button.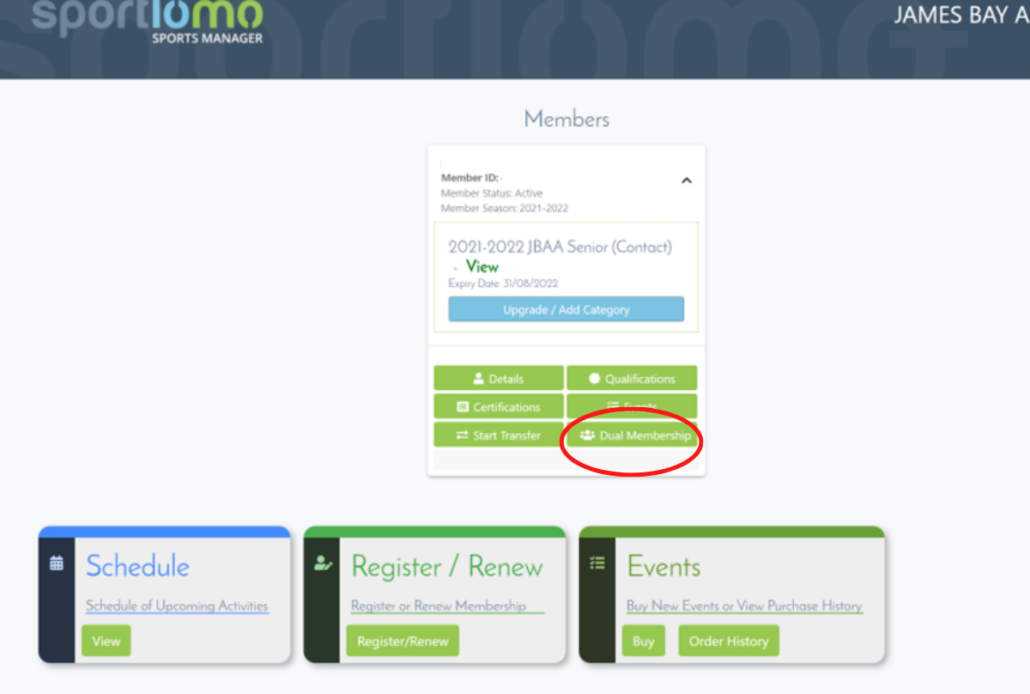 STEP 2
Players will be directed to a Dual Membership request page where they can apply for a Dual Membership with their regional union, while keeping their current Membership.
NOTE: Memberships will only show when your  regional union has published these.
BC Rugby will then approve all requests for Dual Membership for players who are ONLY requesting Dual Membership with a regional union, under the "Membership" tab.
Players can then check their Sportlomo page to see the status of their request
Regional Unions: How to Set Up Membership Types in Sportlomo
Regional unions can follow the below instructions on how to set up Membership Types in Sportlomo:
STEP 1
The first step will be to set up your Membership types through the Sportlomo Portal.
Please watch this video on how to publish your Memberships.
STEP 2
Once your Memberships have been set up, players will be free to request a dual Membership or transfer from their current Club.
If you do not have your sub-union Sportlomo Login, please contact Aimee Burley at aburley@bcrugby.com to receive it.
For both Transfers and Dual Membership requests
Once the Member has been approved, they will have to go back into their Sportlomo account and complete their registration with their regional union.
Please make sure to register with the same account and Membership type – this will allow for your Rugby Canada and BC Rugby Membership to be applied to your regional union and avoid paying for insurance for a second time.
For all Player Exemption requests, please fill out this form and email it to Aimee Burley at aburley@bcrugby.com with "BC Rugby Player Exemption Request" in the subject line. 
*Play down exemptions will only be considered for teams lacking enough players to meet squad size and therefore not prohibiting the selection of another regional player in that age-band. Players given exemptions to play down cannot be considered for Provincial Team selection, as no over-age players are permitted to play for BC at National and Regional competitions. 
The 2023 PRCs act as the critical final stage of the selection process for the 2023 BC Bears Age-Grade XVs teams.
In line with the BC Rugby Selection Policy, we aim to provide several opportunities for players, as individuals and as part of a team, to demonstrate their ability and character. For all Age-Grades, the PRCs conclude the provincial teams' selection process.
BC Bears Representative Teams Coaching Staff will attend the 2023 PRCs and will be finalizing their selections for squads to attend upcoming development camps, as the next step in the selection process.
Upcoming BC Bears XVs Age-Grade Camps and Competitions:
U18 Boys
July 19-22: Training & Development Camp – UBC (TBC)
August 3-6: Western Canadian Championships – Calgary
U18 Girls
July 19-22: Training & Development Camp – UBC (TBC)
August 3-6: Western Canadian Championships – Calgary
There are funding opportunities available for players and teams. See below for more details:
BC Ferries Sport Experience Program
Through the BC Ferries Sport Experience Program, BC Ferries and viaSport provide travel support to eligible not-for-profit sports organizations and athletes. For more information, visit here.
BE PREPARED – CONCUSSION MODULE
BC Rugby's number one priority is player safety and adheres to World Rugby's policy of 'Recognise and Remove' when dealing with concussions or suspected concussions.
IF IN DOUBT, SIT THEM OUT.
Any player suspected or suffering from concussion should be immediately removed from the training session or match, and not permitted to return until they have completed a full Return to Play Protocol and cleared by a physician.
Coaches & Team Staff
BC Rugby requests that all Coaches and team staff complete the World Rugby Concussion Management for the General Public Certification. Note all certifications are only valid for two years, all certifications must have a date of July 9, 2021 or later.
Coaches and staff must upload a copy of their Concussion Module certificate on their Sportlomo profile.
General Public
Anyone on or around the Rugby pitch has a responsibility to be aware of the symptoms of concussion and are encouraged to annually complete World Rugby's online Concussion Management module to learn more.
We also strongly encourage parents, guardians, partners or housemates of Rugby players to complete the online module to be informed.
Get The App
World Rugby has a Concussion App with all the basics of Concussion Management. Download it now from Google Play or the Apple Store.