Welcome to the BC Rugby Hall of Fame.
The BC Rugby Hall of Fame was established in 2005 to honour those individuals and teams who, through their commitment to excellence, left a profound legacy on the development of Rugby in British Columbia.
Since its formation, 49 individuals and two teams have been inducted into the BC Rugby Hall of Fame. The Hall of Fame is located at Brockton Pavilion in Vancouver's Stanley Park.
Please click on the topics below to explore more:
2023 BC RUGBY HALL OF FAME EVENT
Join us on Friday, June 23, 2023 at the annual BC Rugby Hall of Fame event held at the Element Vancouver Metrotown in Burnaby. Celebrate the inductee Class of 2022 & 2023 and the recipients of the Joan Spray and Jack Patterson awards.
Being inducted on the night are:
Bruce Kuklinski
Julia Sugawara
Ed Fairhurst
Mark Cardinal
Rick Bourne
Enjoy a cocktail reception, dinner, and awards presentation, honoring the remarkable achievements of these rugby legends in British Columbia. Don't miss this unforgettable evening of tribute, camaraderie, and celebration.
One ticket is equivalent to one seat. Tickets cost $125 plus tax.
If you would like to purchase a full table (8 seats) Please contact npryce-baff@bcrugby.com.
FAQ: Categories and How To Nominate
Being inducted into the BC Rugby Hall of Fame is a prestigious honor and all nominations require serious deliberation by the BC Rugby Hall of Fame Committee.
The BC Rugby Hall of Fame Committee consists of the following Members:
Connie McGinley
Doug Sturrock
Joan Porter
Ged Griffiths
Andrew Spray
Mark Slay
Todd Pritchard
How do I nominate someone to the BC Rugby Hall of Fame?
Nominations should only be made for Members who have made an outstanding contribution to Rugby in British Columbia.
In any nomination, please provide a detailed list of what the nominee has accomplished, as well as supporting materials including but not limited to:
– A comprehensive record of dates and years of involvement with Club, sub-union, province, and maybe national team
– Number of appearances for British Columbia and or Canada
– Supporting materials may include: awards won, scanned or original newspaper or magazine clippings, articles from websites, photographs, videos, DVD, etc.
– Letters of endorsement from significant organisations
Make sure you emphasise the quality of contributions over a lengthy period at any Club, sub-union, provincial, national or international level in the chosen category.
What are the BC Rugby Hall of Fame Categories?
BC Rugby Hall of Fame Nominations can be made under the following categories:
Player
On the basis of playing ability, sportsmanship and character through the individual's career. A player will have attained a high level of excellence and brought recognition to Rugby in British Columbia. A candidate is not eligible for nomination until five (5) years following the conclusion of active participation at the National level, except in the event whereby the nominee is eligible for immediate consideration.
Team
A nominee shall be considered for selection on the basis of extraordinary achievements during Premier competition in one year only and must have brought recognition to rugby at the provincial level. Either a Sevens (7) team or Fifteens (15s) team may be nominated. A nominee is not eligible for nomination until five (5) years following the year in which it competed.
Builder
A nominee shall be considered for selection on the basis of outstanding and lengthy contributions as a coach, referee, manager, administrator, therapist, trainer, supporter or media member. A nominee must have furthered the growth and reputation of rugby in British Columbia by having had a direct influence on the game at the many levels through an ongoing dedication to the development of individuals, teams or Rugby itself and in so doing exemplifies the core values of rugby as per World Rugby Core Values. A nominee must have exhibited expertise and commitment, with integrity and character in at least one area over a minimum of ten (10) years and need not be retired from an activity to be considered.
BC Rugby Hall of Fame Inductees

Mike James
2020 Inductee - Player
Mike James' illustrious rugby career has its beginnings at Burnaby's Alpha Secondary School, where he began playing rugby in 11th Grade. His play both in school and for the Burnaby Buffaloes U19 team led to selections for Fraser Valley Under 19s at the British Columbia Summer Games and for BC in the U19 National Championships in 1992. By 1994, he had already donned the red and white of Canada, winning his first two senior caps before his first U23 callup. Throughout James' international career, he played in four Rugby World Cups (1995, 1999, 2003 and 2007), captaining the Canadians on a total of four occasions.
James began his professional rugby career in 1996 at French club USA Perpignan where he spent four years, before joining Parisian side Stade Français. James was a key part of SF's Top 14 Premiership titles in 2003, 2004 and 2007, and played in two Heineken Cup finals. During his time in France he was selected for the French Barbarians on five occasions from 1997 to 2005: against South Africa in 1996, against Argentina at Bourgoin in 1998, against Fiji at Toulon in 2001 and against Australia at Bordeaux in 2005, as well as facing the University of Stellenbosch in 1997, where he captained the French Barbarians.
Upon his retirement, James returned to British Columbia where he coached the BC Bears from 2007-2010, including a historic win over Russia in Victoria and a Canadian Rugby Championship title. He has held a number of roles with BC Rugby from 2012-2018, continuing to give back to both the sport and his home province. James has had a wonderful and decorated rugby career both at the club and international level, and BC Rugby is proud to welcome him into the Hall of Fame.
BC Rugby

Ian "Macca" MacLean
2020 Inductee - Builder
Ian MacLean has served the rugby community in BC as a coach, educator, administrator, builder and writer for over five decades. "Macca" arrived in Nanaimo from Australia in 1968 and immediately became involved in the rugby community on the island, resurrecting the defunct Nanaimo Hornets RFC with a group of local rugby enthusiasts. This incarnation of the club continues to this day, supporting and growing the rugby community in the Nanaimo area. MacLean then took up coaching, accepting a position with the University of Victoria in 1970. In 1972 as the Vikes' head coach, MacLean took UVic on a tour of Australia and Fiji, fielding a team that featured five players who would go on to pull on the red-and-white of Canada.
MacLean then became a player-coach at Oak Bay Wanderers, staying on as a coach after a leg injury ended his playing career. Ian also coached the VIRU Junior Tide in 1974 and Castaway Rugby Club in 1975 before returning to coach UVic in 1977, winning a Canada West title and embarking on a European tour that saw the Vikes field 3 more future national team players. Furthermore, as a board member at UVic, Ian helped approve Tier One varsity status for the Vikes Rugby program, securing funding, scholarships, and paid coaching positions. He ended his coaching career with a return to the VIRU Tide, leaing the senior Crimson Tide team to victory over Cambridge University and once again coaching the Junior Tide team.
Perhaps MacLean's most lasting legacy is his commitment to furthering the growth of youth rugby on the Island. He co-founded the Greater Victoria Elementary School Rugby Program in 1972, a program which continues to this day, bringing the sport of rugby into the lives of thousands of boys and girls, many of whom have continued to play rugby with clubs and regional, provincial and national sides. Ian's passionate involvement in the junior side of the game led to his nurturing both the Minis and Junior Girls' programs at CW. These programs continue to endure as a legacy of Ian's commitment to the game, establishing a pathway for young female players that continues to deliver talented athletes at the highest levels. MacLean has continued to help grow youth rugby on the island, introducing a Victoria Try Rugby program in 2019. MacLean was president of Castaway Wanderers from 2004-2008, and a figure in the club's 2011 Premiership title run.
In recent years, MacLean has developed and maintained the Castaway Wanderers website, where he is an active blogger and game reporter. "Macca" has committed himself for decades to building and sustaining rugby at all levels. His vision, dedication and vigor have benefitted Rugby development throughout BC, and his BC Rugby Hall of Fame induction serves to recognize and honour his commitment to the community.
BC Rugby

Pat Palmer
2020 Inductee - Builder
Pat Palmer has been a figure in British Columbia's rugby community for the better part of four decades. Playing high school rugby at St. George's School, Palmer quickly found himself playing first division rugby for Vancouver Rowing Club in 1980 before joining the UBC Thunderbirds. He then subsequently joined the UBCOB Ravens, where he would go on to play for seven seasons. His talent was quickly recognized, with selections to Team BC's senior XVs and then Canada's Senior National XVs team as early as 1983. Sevens was next for Palmer, who was selected to the Canadian national team in 1984.
Palmer would go onto play nationally for both the XVs and sevens' teams until his retirement in 1994. He played at World Cups in 1987 and 1991, and nine editions of the Hong Kong Sevens tournament, making it as far as the semifinals in 1991. The Canadian team he played with at the 1991 World Cup has since been inducted into the BC Sports Hall of Fame. When Palmer retired, he was Canada's all-time leading XVs try scorer, scoring 10 tries in 22 caps.
Not to be outdone by his own playing career, Palmer's coaching career began in 1981 and continues to this day. While his playing career continued elsewhere, Palmer remained involved with the St. George's School program as a coach, where he is still coaching today for both their XVs and sevens teams, winning provincial XVs titles in 1994, 2004 and 2005. He coached junior BC Rep teams from 1995 to 1998, and U17 Canadian XVs from 1996 to 1999, including as the head coach in1997 where Canada went undefeated on their Germany tour, and as an assistant in 1998 when Canada finished fourth at the Junior World Championships.
Palmer was the head coach of the Canadian Sevens team that won the plate at the Mar del Plata sevens in 1998. Palmer's coaching and playing career has spanned the course of decades and impacted rugby both in BC and with Canadian national teams, and BC Rugby is proud to welcome him into the Hall of Fame for his accomplishments and dedication to the sport.
BC Rugby

R.P. "Bobby" Ross
2020 Inductee - Player
Bobby Ross made his mark in Canadian rugby at the 1987 Canadian U19 Championships, winning his first of two U19 titles for British Columbia in the same year he first played competitive rugby for St. Michaels University School in Victoria. Ross was named the captain of Canada's U19s in 1988 for their tour to Wales, and earned his first senior cap against Ireland just a year later to kick off a 14-year international career which included 57 caps and trips to three world cups in 1995. 1999 and 2003.
Ross played for Canada at the 1990 and 1992 Canada-New Zealand Series against sides representing regional New Zealand rugby unions. Throughout his playing years he was a prodigious kicker of drop goals, conversions and penalty goals and ended his international career with a total of 421 points, second only to teammate Gareth Rees on the all-time points list. In 1996, Ross won the Pacific Rim Championship scoring title with 105 points in six games en route to a tournament victory for Canada.
In 1998, he captained his country twice at the Pacific Rim Championship where Canada was again victorious. Ross suited up for British Columbia several times throughout his career, facing Australia, Yorkshire and Japan in 1989, the Future All Blacks in 1990, and England in 1993. From 1997 to 1998 he played professionally for Cardiff RFC in Wales before coming home to Victoria and playing another 5 years for James Bay AA. Ross retired from rugby in 2003, with his final fixture being against Tonga at the 2003 Rugby World Cup where he kicked four penalty goals and was the man of the match.
Bobby Ross's storied career for Canada and British Columbia was a thoroughly impressive one, and his induction into the BC Rugby Hall of Fame is well and truly earned.
BC Rugby

Alan Banwell
2019 Inductee - Builder/Referee
Like many a rugby referee, Alan Banwell's love of the game began as a player. Little did he know that his initial foray into officiating in 1966 would lead to a refereeing career that would eventually span a total of five decades. For 16 years, Alan refereed matches across BC, including several McKechnie Cup games, eventually attaining the rank of provincial panel referee.
Noteworthy as these high-profile matches were, Alan would often cherish officiating at high school games even more, relishing the opportunity to foster new crops of rugby enthusiasts. When he finally hung up his whistle in 1982, a new chapter in his life began as he took on the role of Chair of BC Referees. Sighted by many who followed in his footsteps as being ahead of his time, generations of rugby referees in the Province benefited from his mentorship, which focused on coaching and balanced assessments of a referee's performance rather than straight criticism.
Between 1983-87 Alan was the Western manager of the Rugby Canada National Referee Group, allowing him to contribute significantly to referee development all over the country. Such a prolonged involvement with the game inevitably led to Alan being regarded as a trusted source of refereeing wisdom, regularly consulted for his sage words. Even after retirement from official positions, Alan could not be kept away from the sport that was so dear to his heart.
Well into his 90s, he could be found manning the scoreboard at Klahanie Park or down at Brockton Oval in Stanley Park watching his old team, Vancouver Rowing Club, where he is a lifetime member. For his skills as a referee, but especially for his unwavering commitment to referee development and championing of the sport of rugby, Alan Banwell is a thoroughly deserving inductee to the BC Rugby Hall of Fame.
BC Rugby

Leslie Cripps
2019 Inductee - Player
A pioneer of women's rugby in the 1990s and 2000s, Leslie Cripps achieved success in both Canada and England, blazing a path for other aspiring young female players. Hailing from Williams Lake in the BC Interior, she was the first female rugby player from the community to represent both Province and country in this great sport. Establishing herself as part of the University of Victoria team in the late 1990s, Leslie was called up to the BC Provincial team in 1999 and soon after the Canada Under 23 Team.
She would go on to play for Victoria Velox and James Bay at the turn of the millennium while continuing to make a name for herself on the Canadian National Women's Team. In 2001, Leslie made the move to England and joined Saracens Women's Rugby and made an immediate impact, winning the "New Player of The Year" award. Much more was to follow, with Saracens claiming a total of five Women's Premiership titles (2002, 2006-2009) during Leslie's time with the club, where she was hailed as world class player by teammates.
On the international stage, Leslie would amass a total of 47 caps for her country, representing Canada at a total of three Women's Rugby World Cups (2002, 2006 and 2010). She also had the honour of being invited to play for the Women's Nomads RFC team on multiple occasions. Her reputation as a leader on the field and an ambassador off the field would also see her captain the National Team on a number of occasions including her final World Cup.
One of the most lasting legacies left by Leslie was the contribution to rugby culture in her home community of Williams Lake. Since her initial success, almost twenty young female stars have followed in Leslie's footsteps and represented BC on the rugby field, four of whom would go on to play for Canada on the world stage. As a rugby star celebrated on both sides of the Atlantic Ocean, a powerhouse of the Canadian Women's National Team and an inspiration to generations of new rugby players, Leslie Cripps is a worthy addition to the BC Rugby Hall of Fame.
BC Rugby

Glenn Ennis
2019 Inductee - Player
Achieving rugby success on both sides of the Pacific Ocean, Glenn Ennis carved out an impressive rugby career across two decades in the 1980s and 90s. An all-around sports star from a young age, Glenn was able to put his significant stature, strength and speed to immediate effect on the rugby field. Aged just 16, he was selected for the Okanagan U19 side and held his own against his older teammates and opponents.
Unsurprisingly, Glenn would feature frequently in BC Junior Teams and was the first Okanagan player to be selected to the Canadian Junior Team in 1982. A key player at James Bay and then Kats Rugby Club and a regular fixture on the BC Provincial Men's Team, Glenn became known for his powerful on-field performances and earned his first cap for Canada against Japan in 1986. A further 31 caps would follow including a slew of notable highlights. Three Rugby World Cup appearances (1987, 1991 and 1995), three matches as captain of the National XV Team, six appearances at the Hong Kong Sevens and captain of Canada Sevens in 1992.
An undeniable presence on the field, his reputation was not limited to the shores of Canada. Glenn would receive multiple invitations to play for Barbarians RFC and played on the World XV that toured Northern England in 1989. He would also become one of the first foreign players to sign a professional rugby contract in Japan, representing Suntory on a record 90 appearances between 1991-1999 and helping secure the Japanese Championship in 1995.
A player who gave his body and soul to the sport of rugby, Glenn continues to give back generously to the community that supported him so much in his early years, supporting future stars from the Okanagan. As an individual who embodied the physicality, dedication and athleticism required to be successful on the international stage, Glenn Ennis more than merits his induction into the BC Rugby Hall of Fame.
BC Rugby

Gordon "Gord" MacKinnon
2019 Inductee - Player
Wrestling's loss was Canada's gain in 1980 when the Canadian Government decided to boycott the Moscow Olympics. Consequently, nationally-ranked wrestler Gordon MacKinnon, with a medal in the 1978 Pan Am Games, turned his talents to rugby. He played for Pocomo, Britannia Lions and British Columbia, earning his first major start for the Provincial side in the National Championships in 1984, playing in the tournament a further four times 1985, 1988, 1989, 1990 and 1991.
Gord was selected to the Canadian Men's National Team in 1984 and from then until 1995, he earned 28 caps, though a spate of injuries in 1987 and 1993 prevented more. Despite missing the 1987 Rugby World Cup with a knee injury, he recovered to turn in sparkling back row performances for Canada during the rest of his career. These included notable highlights such as the 1991 and 1995 Rugby World Cups and the Pan American Series in 1995.
In 1992 he was picked as a flanker for a World XV against the New Zealand All Blacks for two matches in New Zealand, on the same team with other international players from Scotland, Australia, Western Samoa, South Africa and France. Gord was also chosen by Rugby World magazine as one of the best 100 players in the world. Positioned at flanker or number 8 he was a scourge for opponents throughout his career including international touring teams from Scotland, Cardiff, New Zealand, Japan and New Zealand Future All Blacks.
He was also a valuable Sevens player for four years: Gala (1991), Hong Kong (1992), Dubai (1992), Canberra, Fiji and Hong Kong (1993), Rugby World Cup of Sevens in Scotland (1993) and Hong Kong 1994. A truly talented player in both Sevens and XVs and a key member of many successful Provincial and National teams, Gord MacKinnon is entirely deserving of his induction in to the BC Rugby Hall of Fame.
BC Rugby

Tim Murdy
2019 Inductee - Builder/Coach
A prolific coach and developer of talent across school, club, provincial and national teams, Tim Murdy is one of the most efficacious builders of rugby players in BC. While his playing career alone could be considered commendable, covering Carson Graham Secondary, Capilano College, UBC Thunderbirds, Capilano RFC, as well as Regional, Provincial and National caps, it would be the world of coaching where Tim would ultimately make his biggest impact. A firm believer in developing players through exposure to the game at the highest level, he would ultimately be responsible for programs that produced an incredible number of international players, over 100 and climbing.
These athletes would all go on to represent Canada and other countries with great distinction at the various levels of play including top-flight international tournaments and World Cups. In addition, a number of these athletes would go on to achieve professional playing careers in countries including France, England and the United States. As a coach, Tim would achieve success with multiple schools, clubs and programs including 16 Provincial Boy's High School titles (11 with Shawnigan Lake), three titles with Capilano RFC and countless international fixtures and tournaments with Provincial and National Programs.
He is the only coach in BC School Sports history to win provincial Championships with three different schools, amassed five National Championship titles as Head Coach and was a National Team Coach for Rugby Canada for 10 years. Growing the game is just as important to Tim, who regularly shares his passion and expertise by acting as a guest coach at local schools, running sessions with both visiting teams and internationally.
Few people can claim to have had such a wide-ranging and successful rugby career in British Columbia as Tim Murdy, an individual who consistently developed flourishing programs that produced elite athletes. He is without question a fitting addition tothe BC Rugby Hall of Fame.
BC Rugby

Jim and Joan Porter
2019 Inductee - Builders
The Porters are integral parts of the history of rugby in BC. Both of them gave so much to the sport in their own particular ways but rarely is one spoken of without the other, such is the enduring power of their collective contribution. Jim and Joan can trace their introductions to rugby back to 1952 at Magee Secondary School. From there, Jim developed a playing career that would endure until he turned 70, with Joan regularly cheering from the sidelines. Highlights from Jim's playing days include being awarded the Nelles Stacey Trophy in 1959 as Rookie of the Year, captain of Vancouver Rowing Club, being a member of the 1962 Canada Tour of the British Isles as well as hosting touring clubs and international teams from across the globe.
Jim would also contribute to the administrative side of the sport, holding positions with the Vancouver Rowing Club, Vancouver Rugby Union, British Columbia Rugby Union and Rugby Canada. Not to be outdone, Joan would champion the sport of rugby in the Province, setting up the BC Supporters Club and working tirelessly to fill the touchlines with ex-players and new converts. Joan was also a significant presence at the Vancouver Rowing Club, an advocate of women's rugby and regular host for any touring club or country coming to BC.
Between the two of them, they have amassed a slew of awards and recognitions for their dedication to the sport and spirit of rugby including the Joan Spray Award, Jack Pattison Award and BC Presidents Award, as well as being made Life Time and Honorary Members of multiple clubs and societies.
Over the course of six decades, Jim and Joan Porter dedicated so much of their lives to rugby in BC and promoted the best elements of Canadian Rugby to the world. The history of the sport in this province could not be written without them and they are both undoubtedly essential additions to the BC Rugby Hall of Fame.
BC Rugby

Ian Birtwell
2018 Inductee - Builder
With a doctorate in Marine Biology, Dr. Ian Birtwell worked as a fisheries scientist for the federal government. His knowledge and expertise were in wide demand, from conducting fieldwork and research, to providing expert witness in court. Originally from England, where he played for a Manchester team, Birtwell immigrated to Canada in the early seventies. He was a consummate professional in all that he undertook and that meant he balanced work and the demands of coaching the modern game. At that time, Canada paid neither their coaches nor players, but he had a passion for rugby and, more precisely, coaching rugby.
Birtwell prepared for success with every team he coached. He played for and coached the Meralomas from 1982 to 1990. During that time, the Meralomas won the Provincial Championship's Rounsefell Cup in 1983 and three years in a row, from 1986 to 1988. Under his tutelage, Vancouver tied with Aberavon in 1981. Birtwell continued with British Columbia's squad (1988 – 1989), who won the National Championship's Labatt Award.
He insisted on high expectations from everyone who played for him and coached with him. The team couldn't be content with just competing; they had to expect to win. As part of his team preparation, Birtwell hand-wrote coaching plans based on the team's strategies and tactics. He insisted on practices with stringent demands of players working under pressure; he resolutely emphasized the development of basic skills and, most especially, ball-in-contact skills without errors. He provided written technical reports and analyses for players, units, and the whole squad.
Birtwell was appointed Canada's national coach in October 1989 and held this position through 1996, during which time the team won twenty-one of thirty-six matches. His six years in this position was the longest of any previous national coach. He coached Canada in the 1991 and 1995 Rugby World Cups and the 1996 Pacific Rim Series.
In the 1991 Rugby World Cup, Canada won three matches to reach the quarter-finals in Lille where they received a standing ovation after losing to the New Zealand All Blacks 26-13. These performances persuaded England to extend a unique invitation to Canada: to play against England at Wembley in 1992. This invitation was a building and development opportunity for Birtwell to prepare the team for the 1995 Rugby World Cup in South Africa.
Furthermore, Birtwell acknowledged the future of the sevens game while still stressing the overriding importance of the fifteens game to international success. He coached the Canada Sevens squads on nine occasions from 1991 to 1994, four of which were at Hong Kong, and at the inaugural Rugby World Cup of Sevens in Edinburgh in 1993.
With his coaching approach, Birtwell built a new culture for Canada's national team. He understood the increasing demands and challenges of the international game, and realized how these had to be met. Ian Birtwell is a strong contender to be inducted into the BC Rugby Hall of Fame.
BC Rugby

Ruth Hellerud-Brown
2018 Inductee
Ruth Hellerud-Brown is widely acknowledged as an architect of the game of rugby for women in Canada. Seen as a force and a leader on the field, she represented Alberta, Saskatchewan, and British Columbia at National Championships from 1984 to 1993. In British Columbia, in particular, her impact on the development of the game for women is indelible.
Ruth devoted considerable efforts to raise the level of play across three provinces. She was a founder and leading member of the Coven RFC (1982) in the Alberta Women's Rugby league and represented the Alberta Rugby Union 1984 to 1987, serving as captain for many of these games. In 1987, Hellerud-Brown became the Director of the National Women's Rugby Team (CRU Women's Rugby Committee) and, a year later, represented the Saskatchewan Rugby Union. She represented the BC Rugby Union from 1989 to 1993, during which time she founded and coached the University of British Columbia's Women's rugby team for three years, before moving to the Vancouver Rowing Club, where she started a women's rugby team.
A member of the 1987 squad, Canada's first women's rugby team, Ruth also took on the role of Director of the National Women's team for that inaugural match. As an international player, she earned eleven caps, captaining the team on nine of those occasions. She was an integral part of the Canadian Women's team at the inaugural Women's Rugby World Cup in Wales in 1991, where the team came 5th and won the Plate. From 1990 to 1997 Hellerud-Brown coached the BCRU's Senior Women's squad and was one of the first women to coach a provincial squad to a National Championship.
In 2001, Hellerud-Brown received the Joan Spray Award, presented annually to a female member of the BC Rugby community who, through volunteering, has exhibited dedication through a lifelong contribution to the sport. Her legacy is also recognised in the title of one of the top competitions in the Senior Women's game, the Ruth Hellerud-Brown Cup.
Her commitment to women's rugby from club to international stage singles her out as an indisputable and welcome addition to the BC Rugby Hall of Fame.
BC Rugby

Alan Hudson
2018 Inductee
Born and raised in Vancouver, Alan "Huddy" Hudson enjoyed a near twenty year playing career before beginning his involvement in refereeing in the late eighties. He joined the Vancouver Fraser Valley Rugby Referees Society (VFVRRS) and has been a member ever since, including a period as President, eventually becoming a Life Member in 2007. Throughout this time, he completed all IRB/World Rugby referee accreditations and was President of the BC Rugby Referees Society. He has refereed in BC at all levels of the game from youth and schools to Premier Senior Men's, and continues to enjoy being in the middle of the field on a Saturday afternoon.
Hudson joined the Rugby Canada National Panel of Referees in 1999, was a member until 2005, and refereed across Canada, USA, the Caribbean, and had a long refereeing exchange in Wales. The highlight though was refereeing at the Under 19 World Championships in Italy in 2002. In 2006, Alan completed the Coaches of Match Officials accreditation, and continues to be active in this important referee-coaching role at matches and events throughout each season. He was also the recipient of the BC Rugby Official of the Year award in 2008.
Off the field, Hudson had a very successful career as a lawyer, being partner at a major Vancouver law firm for eighteen years, before forming his own law firm in 1994, from which he has recently retired.
Utilizing his background as a lawyer, Hudson began his journey into the rugby judiciary area by completing the IRB Judicial Officer's workshop in 2008. Since then, he has been a Judicial Officer or Appeals Officer for countless Rugby Canada events. A few of his most notable accomplishments in his international JO career include the 2008 San Diego 7s and Hong Kong 7s, 2009 British and Irish Lions test series in South Africa, 2015 Rugby World Cup, 2017 Americas Rugby Championship, numerous World Sevens Series tournaments and countless international fixtures across the globe.
For his skills as a referee, but especially for his role in World Rugby judiciary, his on-going mentoring of his peers, and his stature in international rugby, Alan "Huddy" Hudson makes an excellent inductee to the BCRU Hall of Fame.
BC Rugby

Winston Stanley
2018 Inductee
When Winston Stanley was a student at Oak Bay Secondary School, his coach Gary Johnston noticed his athletic ability and speed. Only in grade nine, Stanley was placed on Oak Bay's senior squad. At sixteen years old, Stanley played on the wing for the Victoria men's team, eventually going on to play for UBC, James Bay, Kats, British Columbia, and Canada. Internationally, Stanley also carved out a successful professional career in England.
In 1994, at nineteen years old, Stanley claimed his first caps for Canada in both Sevens and XVs. Adding to his accomplishments, he played for British Columbia in the 1994 Labatt Award game against Ontario, against the New Zealand Divisional XV in 1995, and in the 1995 and 1998 Canadian Rugby Championships.
From 1994 to 2001 he played for Canada in Sevens tournaments in Hong Kong, Taipei, Fiji, Dubai, South Africa, Ponta del Este, Mar del Planta, Wellington, Japan, Beijing, and Malaysia, as well as the Rugby World Cup Sevens (1997, 2001) and Commonwealth Games (1998, 2002).
Stanley's world-class pace and ball-handling skills in the wing and fullback were obvious to both spectators and to those who played with and against him. He was a premier Canada player in the 1995 and 2001 Pan-American Series, the Rugby World Cup Qualifiers in 1998 and 2002, the Pacific Rim Series from 1996 to 2000 and three Rugby World Cups in 1995, 1999 and 2003. Moving to England, Stanley played for Blackheath in the Premier Two before turning professional with Leicester Tigers in 2000-2001. The Tigers won the English Premiership, English Playoff title and the Heineken Cup (European Championship) with Stanley playing in both the semi-final and final matches.
By the end of his illustrious career, Stanley was Canada's leading try-scorer, with twenty-four, and had amassed a total of sixty-six appearances, the third highest in Canadian rugby history. Induction into the BC Rugby Hall of Fame is just reward for this talented player who performed as a youth and a senior at the highest level of the sport for thirteen years.
BC Rugby

Scott Stewart
2018 Inductee
Scott Stewart began his rugby days at Magee Secondary School and went on to play for UBC Thunderbirds, UBCOB Ravens, British Columbia, Canada, Harlequins and Bedford Blues. A prolific presence on the field from a young age, Stewart played for British Columbia U19, winning National Championship three times between 1987 to 1989 and toured Wales with the Canadian National team in 1988.
In addition to playing for Canada Under 21 against the USA Collegiate All Americans (1988 and 1989), he was also in the Senior British Columbia lineups in their games against Scotland (1990) and England Students (1991). These performances would prove to be the start of a national team career that would run for a total of twelve years.
He was a frequent starter in the 1996 and 2001 Pan-American and 1996-1999 Pacific Rim Series, as well as the 1998 Rugby World Cup Qualifiers. During his time playing for Canada, he amassed sixty-four international test caps and played against almost all of the top 20 rugby nations across the globe. Furthermore, Stewart was part of the 1991, 1995, and 1999 Canadian Rugby World Cups teams, a period of some the best performances the country has seen.
He was also a talented Sevens player, representing his country over a span of five years playing in the likes of Dubai, Canberra, Fiji, Hong Kong, Punta del Este and in the 1993 and 1997 Rugby World Cup Sevens. Making the move to England in 1997, Stewart also enjoyed three successful years as a professional player with both and Bedford Blues before calling and end to his playing days.
Following his retirement in 2001, he took up a number of coaching roles including Canada Under 21 and the University of Western Ontario. Since 2004, Stewart and has been the UCLA Bruins head coach where he has transformed the team, reaching a national ranking of 6th in 2014. He continues to share his love for the sport with a new generation of players, helping to inspire future stars of the game.
Scott Stewart's career as a player with school, university, club, province, and country teams makes him a worthy addition into the BC Rugby Hall of Fame.
BC Rugby

Geraldine 'Ged' Griffiths
2015 Inductee - Builder
Although Griffiths began her career as a player with Richmond in 1981, she subsequently also graced the lineups of Pocomo, Ex-Britannia, SFU, Douglas and United and was captain while with the first three clubs. She organized the first women's team at Ex-Britannia in 1988 and was coach/captain much of the time when winning the provincial championships in 1995, 1996 and 1998. With the demise of this club, Griffiths joined SFU for a season before moving to Douglas in 2001 as head coach and in four years won provincial titles with the Premier (2001-02), 2nd division (2002-03) and Under 18 (2002-03) teams.
After Douglas and Pocomo merged to form United in 2005, Griffiths spent three years as an assistant coach and occasional player with them before resurrecting the Brit-Lions, who had moved to Delta, in 2008 and she remained with them as a part-time player and coach until the present (2015). Her 2nd division team won the provincial title in 2009.
Griffiths also made her mark at the representative level. During the 1990s, she served as organizer/ coach/captain of several Vancouver Representative sides that competed in the Hellerud-Brown series. She was a member of the senior provincial team 10 times from 1986 to 1998 and was captain on nine occasions. The team was the national champion in 1991 and 1995 and in 1999 she was the manager.
From 1995 to 2002 she coached Burnsview Secondary School and from 2003 until the present (2015) coached North Delta Secondary School. In 2003, she was a selector and the coach of British Columbia's first-ever Under 17 side when they defeated Alberta twice and was coach of the side that won the bronze medal at the 2004 national championships. She coached Fraser Valley Under 19 in 2005 and 2006 and Zone 4 in the 2006, 2008 and 2010 British Columbia Summer Games.
Griffiths earned three caps for Canada at the 1993 Canada Cup event and missed going to the 1994 Rugby World Cup because of a broken collarbone. She also had two years service for Rugby Canada on the Domestic Competition and Discipline Committees.
Between 1989 and 1998, she served as vice-president and president of the West Coast Women's Rugby Association, helped to write its constitution and returned as president from 2002 to 2004. The tireless Griffiths was duly acknowledged three times for her outstanding contributions to women's rugby at many levels. She received the Women in Rugby Award from the Vancouver Rugby Union in 1992, the Joan Spray Award from the BCRU in 2002 and a trophy named in her honour, the Ged Griffiths Cup, was given to the provincial 2nd division women's winner in 2005. Since then, Griffiths has participated in the game as a player, coach and has presented the award several times.
Without a doubt, 'Ged' Griffiths' influence as a player, coach, referee, manager and administrator over 34 years has been enormous, and her induction into the BC Rugby Hall of Fame is a fitting recognition of her presence and leadership in the women's rugby community.
BC Rugby

Mel Jones
2015 Inductee - Builder
Originally from Wales, Mel Jones arrived in Victoria, BC, in 1969. He joined the Castaways Club as a player and introduced rugby at Glenlyon School, where he served as coach. In 1972, he moved to St. Michaels University School, where he continued coaching until 1991. Overseas tours were an integral part of all the programs to which he contributed.
In 1975, having retired from playing the game, he joined the Vancouver Island Rugby Referees Society (VIRRS) in order to "give something back to the game." During his time as an active referee, he officiated at Japan Cup, Dunbar Cup and McKechnie Cup matches. He began a three-year term as President of the VIRRS in 1985, having been its allocator for several years prior.
In 1992, he joined the Board of the British Columbia Rugby Union as Chairman of Referees, where he introduced and oversaw initiatives in fitness testing, performance evaluation models, data gathering, interpretation and feedback to referees. A provincial panel of assessors followed, as did a provincial referees society (BCRRS). Mel Jones served as the BCRRS' first President and wrote its constitution.
In 1997, he was invited to join the Referees and Laws Committee of Rugby Canada and was its Chair from 2000-2003 and 2005-2009. There he introduced national level initiatives such as fitness testing, Knowledge of Law, Participation and Self-Development. After attending an International Rugby Board (iRB) Game Development Workshop in 1999, he conducted the iRB Level III Referee Assessor Course innumerous Canadian and American cities, as well as in Fiji for the PacRim group. He also led the first iRB Level II Referee Coaching courses in Victoria and Vancouver.
His international career as a referee performance assessor began in 1997 and in 2002 he was appointed to the iRB Tier II Assessors panel. During his career, he reviewed referee performances at 20 Senior Men's Internationals, which included the PacRim, PARA and Churchill Cup competitions, as well as the 2003 Rugby World Cup qualifying matches.
He represented Canada as a Performance Reviewer at the 2004 iRB World 7's in Los Angeles, the 2005 U19 World Championships in Durban, South Africa and the 2006 Women's Rugby World Cup in Edmonton, Alberta.
In addition, he qualified in 2005 as an iRB Citing Commissioner and an iRB Trainer of referees, referee coaches and educators.
Even when he was making his mark nationally and internationally, his main focus never strayed from the two societies closest to him in all ways, the VIRRS and the BCRRS. This commitment was exemplified by the numerous referee courses given and performance assessments written by him during that time. His objective for the performance review process for the referees was quite simple: to make the referees better in their next game.
Mel Jones was duly named a life member of the VIRRS in 2005 and life member of the BCRRS in 2010.
BC Rugby

Kelly McCallum
2015 Inductee - Player
Kelly McCallum revealed her athleticism as a teenager at Balmoral Junior High School and Earl Marriott Secondary School where she excelled at soccer and water polo. At one point she traveled to Quebec to train with the Canadian women's water polo team. In 1993, while attending Douglas College on a soccer scholarship, she was a spectator at a rugby game when asked to play on the wing for Douglas RFC because they were a player short.
Kelly continued to play both sports for one more year before opting for the Douglas RFC in the West Coast Women's Rugby Association until the end of 2002. With a year away (1998) to travel in Europe and study as an exchange student at the University of Queensland (Brisbane), she joined the Brothers RFC, scored two tries against the favoured Queensland University in the Queensland Grand Final and was the leading scorer for the club (including all the men's teams).
As captain of Douglas from 1999 to 2002, Kelly led the Premier side in winning two of four provincial finals. During two championship seasons, the team compiled a 35-2-1 record and outscored the local and Pacific Northwest teams by large margins. Throughout McCallum's career with Douglas, she received several Outstanding Back and Most Valuable Player Awards and in 2001-2002 was named the BCRU Player of the Year, the first woman to be accorded this honour. From 1999 to 2001, McCallum initiated and coached girl's rugby at Elgin Park Secondary School.
In inter-union and inter-provincial competition, McCallum was a standout player and captain for both the Fraser Valley and British Columbia and played for British Columbia in 1994 (national champion), 1996, 1997, 2000, 2001 and 2000. From 2002 to 2008, she played overseas with Richmond (England) and Sydney University (Australia). In 2002-03, she was Richmond's Premier team's Outstanding Back and in 2004-05 was the Most Valuable Player. She also found time to coach the Richmond Academy from 2002-2004. McCallum was introduced to seven-a-side when she won a spot on Canada's first-ever women's side at Hong Kong in 1997 - the first year for international sevens' competition for women - and was the leading scorer for Canada.
McCallum was first capped for Canada 15s in 2001 against the USA, was capped 30 times in six years and played in the 2002 and 2006 Women's Rugby World Cups. From 2004 to 2006 she captained the team from fly-half and used her goal-kicking skills for conversions and penalty goals while being captain on 16 occasions. During her time with the national team, she represented Canada with pride and distinction and was an excellent role model for all young women with her dedication to be the best. With her discipline and leadership McCallum was instrumental in building a foundation and culture within the women's program.
McCallum has been an ambassador for British Columbia and Canadian women by playing and/or coaching in England, Australia and Japan. Her involvement with the Japan Rugby Football Union as the Olympic Academy Woman's Sevens Rugby Coach and technical advisor for the national women's 15s from 2010-2012 was yet another example of her leadership and dedication to high performance.
Indeed, Kelly McCallum's sparkling rugby career for her club, sub-union, province and Canada warranted her inclusion.
BC Rugby

Paul Horne
2015 Inductee - Builder
Paul Horne made a significant contribution to rugby in British Columbia as a coach at the club, provincial and national levels from 1979 to 2011. After playing with Western Washington College (Bellingham) he took over as a player/coach with Chuckanut Bay RFC in 1975 and guided them to the Western Washington State divisional championship in 1976, 1978 and 1982. During this time, Horne started the rugby program at Semiahmoo Secondary School where he spent 23 years guiding his team to 16 Fraser Valley titles and two provincial championships, in 1988 and 1995. An impressive statistic was that Semiahmoo finished in the top three schools in the provincial championships 15 times between 1983 and 2002.
A firm believer that touring was a part of every player's development, Horne made 12 overseas tours with his teams to Great Britain, France and the Southern Hemisphere. The premier Seven's tournament in the Pacific Northwest, the Can-Am Summer Sevens in Ferndale, Washington, was the brain-child of Horne in 1978 and he was still a director in 2014. From 1988 to 2004 he was a Course Conductor for the National Coaching Certification Program (N.C.C.P.)
Horne started the Semiahmoo Old Boys RFC in 1982, coached the Fraser Valley Venom in the Rugby Canada Super League in 1997 and Bayside RFC from 1998 to 2001. From 2003-2009 he was the head coach of Chuckanut Youth out of Bellingham, the forwards coach at the University of British Columbia in 2010-2011 and the Director of the Western Washington University men's program from 2012-2014.
In 1984, Horne added provincial team responsibilities to his already busy schedule by coaching British Columbia's Under 19 team to the national titles from 1984-1989 and 1994-95, and winning the Canada Games Gold Medal in 1985.
At the national level, Horne was the head coach of Canada Under 21 from 1990 to 1992, Canada under 23 from 1994 to 1996, Canada Under 19 in 1996-97 and assistant coach of the Under 19 Rugby World Cup team in Ireland in 2005. With the senior men, he was an assistant coach in 1996 and 1998 to 2002.
Paul Horne's accomplishments as a coach at many age levels and willingness to promote and develop rugby for 32 years were worthy of his selection as a builder of rugby in this province.
BC Rugby

Douglas Sturrock
2015 Inductee - Builder
Douglas (Doug) Sturrock has been involved as a player, coach, selector and administrator with the game of rugby union locally, provincially and nationally for over six decades. Like many graduates of Kitsilano Secondary School, Doug joined the Meraloma Club as a player and later served seven years as a coach. He also played at the University of British Columbia, from which he graduated with a Bachelor of Physical Education degree. Later, Doug completed a Master of Arts degree in History at the University of Alberta where he participated in rugby as a player/coach.
After graduating from UBC, Doug began a long and successful career as a Physical Education teacher and rugby coach in Vancouver, most notably at Magee Secondary School. Doug coached at Magee for 34 years, including six years after he had retired as a teacher. In recognition of Doug's years of service as a teacher, department head and coach, the gymnasium at the new Magee Secondary School was named in his honour.
This was just one of the many honours and awards that Doug received over his long teaching and rugby career. He has been the recipient of the Vancouver Secondary Schools Athletic Association Longstanding Service Award, a BC Schools Sports Honour Award, the Sport BC President's Award, a BC Secondary Schools Rugby Union Honorary Life Membership, the Vancouver Rugby Union C. W. Stoess Trophy (for sportsmanship, leadership and playing ability) and The BC Rugby Union Jack Patterson Award, (for outstanding contribution to the game of rugby football in British Columbia).
The awards listed above indicate the recognition that Doug's rugby associates have made of his service to the game in many capacities from the school to the international level.
Doug's interest in rugby extends far beyond the many years that he has spent as a player, coach, clinician, selector and administrator. He has become the custodian of our game, the keeper of our past, the wise observer of our present. Doug co-authored a history of the Meraloma Club, and acts as the Honorary Historian for that club, the BC Secondary Schools Rugby Union, the BC Rugby Union and for Rugby Canada. Because of Doug's knowledge of our rugby past he has also been appointed to chair the BC Rugby Union Hall of Fame Selection Committee. Doug also served as chair of the BC Rugby Union Centennial History Committee.
Doug Sturrock has served as the premier historian of rugby in our province and has been an influential advocate in promoting the BC Rugby Hall of Fame. His tireless research work has paved the way for the induction of several of the Hall of Fame's current members and it is most fitting that he now joins them as a Builder.
BC Rugby

Stuart Thomson
2015 Inductee - Pioneer
Stuart Thomson was a commercial and civic photographer in Vancouver for 50 years during which time he photographed people, places and events, including sports. Although he had no direct affiliation with a rugby club, sub-union or the BCRU, he photographed teams in action and in portraits from 1911 to 1959. Without this very large body of work, many of which have been digitized and can be seen on-line and in person at the City of Vancouver Archives, there would be a vacuum in the visual history of rugby in Vancouver during this period.
Other well-known photographers, both private and newspaper, also recorded rugby events but the number is miniscule when compared to Thomson's voluminous collection. Thomson snapped the photos of still existing teams like the Vancouver Rowing Club, UBC and Meralomas, as well as some that no longer exist like Crusaders, Firemen, Welsh, North Shore All Blacks, Seaforths, Centrals and Native Sons. A few school teams and former school teams like Ex-Tech, ex-Magee and Ex-King George are also included in the collection.
When the BCRU's representative team played Japan (1930), Queen's University (Belfast) (1953), Oxford/Cambridge Universities (1955), Barbarians (1957), Australia (1958) and British Lions (1959), Thomson was on site to ensure their place in visual history. In addition, Vancouver and Victoria representative teams that played against the touring sides from overseas and from Edmonton, Calgary, California and Eastern Canada between 1911 and 1959 were also photographed. The McKechnie Cup series was the highlight of every season and Thomson was at many of the games with his 8"x 11" Empire State camera. Some of his photos are in the Brockton Pavilion.
Thomson also showed up at Brockton Oval during the World War II years to take photos of the Victoria Army, Vancouver Army and RCAF Station Sea Island service teams. A feature that was unique to many of Thomson's team photos were the names of the players that he inscribed on the negatives with his name sometimes added in the familiar bottom right corner triangle.
When the Rugby Union of Canada, now Rugby Canada, went to Japan in 1932 Thomson was in the touring party. This was the Rugby Union of Canada's first ever official overseas tour and, except for the photos that appeared in the Japanese newspapers, only those taken by Thomson have been kept for posterity.
Thomson's induction into the BCRU Hall of Fame as a Pioneer was long overdue.
BC Rugby
Robert E. 'Ro' Hindson
2011 Inductee - Athlete
Ro Hindson was a massive influence throughout his playing career for Brentwood College and two universities as well as for his club, province and country. His physical assets of height, speed, power, agility and hand and foot skills made him suitable for both the 15 a-side and 7 a-side versions of rugby.
When Hindson retired in 1990, he had received the most 'caps' for having played against another country in the history of Canadian rugby with 31 to his credit. In the days before the Law allowed players to be lifted in the lineout as they are today, his 6' 5" height made him a constant threat for his foes.With his size, his partnership with Hans de Goede in the second row of the scrummage was well-known to all rugby followers. Hindson's pace and athleticism around the field was such that from 1980 to 1987 he was also on the Canadian squad that competed in the world's premier seven-a-side event – the Hong Kong Sevens.
Recognized by adversaries and team mates as a player with much ability, Hindson first played for British Columbia against New Zealand in 1972 and was first capped for Canada in 1973 against Wales. In his early days he was also a goal kicker but it was his formidable presence as a multi-skilled player in all phases of the game that attracted the attention of the Canadian selectors. When he was a student at UBC he also played against New South Wales Country (Australia) (1974), Japan (1976) and Bridgend (Wales) (1979).
In 1974, when Hindson was selected by the Irish Rugby Football Union to represent Canada during the Union's Centenary season, he was among the first Canadian rugby players to be recognized by overseas authorities for his exceptional abilities. Hindson played for the Irish Wolfhounds against Connacht and Leinster and was a reserve for the President's XV against the complete Ireland team. In the latter game, players from six other International Rugby Board countries were in the starting lineup. In 1987, when South Pacific Barbarians went on their internal tour of South Africa, Hindson was the only Canadian player invited to join this select group of international players from the South Pacific countries.
These two events which were thirteen years apart, and the fact that Hindson was invited to them, in two world-class countries a long way from both each other and from Canada, is an indication of the respect he was given by Ireland and the South Pacific nations. These are achievements that no other Canadian player can put on his resume.
In 1987, when Canada was included in the first Rugby World Cup in New Zealand, Hindson was an obvious selection as Canada's most capped international player and he played in two of the three matches. Hindson's occupation as a fruit farmer in Naramata after leaving university required that travelling to matches was difficult and, subsequently, he had to turn down several opportunities to play for his club as well as for British Columbia and Canada. When he retired in 1990 he was still Canada's the leading cap-winner.
Canadian rugby has had few legends in its history but Hindson has earned that recognition after representing his country both at home and abroad for 18 years in three decades, and selection to the British Columbia Sports Hall of Fame would be verification.
BC Rugby

Ted Hunt
2010 Inductee - Player
Ted Hunt was an outstanding athlete who excelled in rugby, skiing, Canadian football, boxing and box lacrosse and is a member of both the British Columbia Sports Hall of Fame (1972) as an all-round athlete and the University of British Columbia Sports Hall of Fame (1993) as a rugby athlete.
Hunt began his rugby career as a scrum half at Lord Byng High School and with the Vindex club in the Vancouver Rugby Union Second Division. He remained as a scrum half at university until be was moved to standoff because of his athleticism, strategic thinking and leadership.
Under coaches Albert Laithwaite and Max Howell, the UBC Thunderbirds relied on Hunt to direct their teams using his superb passing, kicking and running skills. While he was at UBC, Hunt played for the university against Oxford-Cambridge Universities, twice for British Columbia against the Barbarians and in the World Cup contests against University of California (Berkeley).
Hunt took a reprieve from rugby in 1957 and 1958 to play professional football with the British Columbia Lions but returned to rugby to play twice against Australia, the British Lions and tour Eastern Canada and Japan with British Columbia, the latter with his former coach and mentor Howell.
Unable to make the full 1962 Canada tour to the United Kingdom, Hunt joined them as a replacement but was injured and had to return home.
Overseas teams who came to British Columbia soon learned that Hunt was a shrewd and talented player and captain. Among those he faced were Australia, Yawata RFC (Japan), New Zealand Universities, Japan, Scotland, New Zealand, British Lions and England. When the National Championship resumed in 1966, Hunt captained British Columbia to the Carling Bowl. In 1966, Canada played its first International since 1932 against the British Lions, and Hunt was again the captain.
BC Rugby

Keith Morrison
2010 Inductee - Player
After playing and coaching in his hometown of Dunedin, New Zealand, and graduating from the University of Otago, Keith Morrison came to Victoria in 1973 to teach. In 1974, he joined the Vancouver Island Rugby Referees' Society (VIRRS) and for the next 17 years, he was active as a coach and referee taking charge of school, club, sub-union, interprovincial and international matches. Appointments for McKechnie and Rounsefell Cup matches, visiting team fixtures and high school finals soon appeared on his resume. He took leadership roles with the VIRRS by serving as allocator, treasurer, secretary and president and with the BC Rugby Referees panel. After being appointed to the Canadian Rugby Union Referees panel, Morrison refereed at the Canadian Junior Championships in 1978 and 1979, the Eastern USA North vs. South fixture and the Monterey (USA) National Tournament where he did the final in 1980 and 1983.
Some of the key matches he did after 1984 and into the early 1990's included British Columbia against Wales B, Scotland A, England XV and New Zealand. He also refereed interprovincial championship matches in Eastern Canada (1984), Tier I (1988 and 1989) and Tier II (1990 and 1992).
While on exchange in England in 1980 he refereed Harlequins vs. Cardiff at Twickenham and Leicester vs. Romania. Morrison's first full international match was in 1982 when the USA played England in Hartford, Connecticut, and this was followed by Alberta vs. Italy. In 1985, he became the first Canadian referee to officiate at the Hong Kong 7's by doing the Plate Final. In 1989, Morrison handled the whistle during the Canada vs. Waikato CANZ series at Brockton Oval and two matches in the 1991 World Cup European qualifying round in Madrid. The pinnacle of his refereeing career was reached in 1991 when he became the first Canadian to officiate at the Rugby World Cup as one of the touch judges.
Morrison conducted IRB referee certification courses and worked with referees on exchange. He completed a number of IRB courses all aimed at improving referees both locally, nationally and internationally. Morrison was named a Life Member of the VIRRS in 2005.
BC Rugby

John Graf
2009 Inductee - Player
John Graf showed signs of being an international player from the moment he first wore a St. Michael's University School jersey in Victoria. He represented his school, club, province and country revealing skills and charisma both as a player and captain.
After representing Canada at the Under 19 and Under 21 levels, Graf made 54 senior appearances from 1989 to 1999 and scored 90 points. He was a member of the 1991, 1995 and 1999 World Cup squads and had the unique distinction of being capped at four positions: wing, center, standoff or scrum-half, though he was mostly capped at the latter two positions.
Much like other great British Columbia players who had lethal spiral kicks, Graf could punt with both his left and right foot and he could slot both drop goals and penalty goals. From 1991 to 1999, Graf made many appearances for the Canada Sevens squad, including the 1993 and 1997 Rugby World Cup Sevens, and he was the captain in 1997.
The popular UBC Old Boy player had an incredible will to win and was a threat whenever he laced on his boots. Even when Graf was no longer selected for the national team he continued to play like an international player.
BC Rugby

Gary R. Johnston
2009 Inductee - Builder
For people who have known Gary Johnston for any length of time, few would disagree that the word "failure" does not exist in his vocabulary. When he played on a school, university, club, sub-union, provincial or national team Johnston thought that winning was the only option. Johnston was an outstanding player and captain for his club, James Bay Athletic Association, British Columbia and for Canada, though he only received one cap, in 1978 against France. With his ongoing knowledge, determination and dedication, Johnston convinced players how the game should be played in order for them to finish with more points than opponents at the final whistle.
He has always been a deep thinker and willing to experiment with tactics. When Johnston became a coach, he applied many of the lessons he learned as a player and always wanted to be on the leading edge in this position. He has influenced players and coaches in both British Columbia and in Canada and the phrase "you cannot argue with success" applies to Johnston. He was Canada's first World Cup coach and his provincial teams have won national championships at the Under 19 and senior levels. His Oak Bay School has won five provincial titles. He has presided over James Bay Athletic Association and sits on the BC Schools committee. After a time away the national scene, he surfaced as an assistant coach with the senior men's team at the 2003 World Cup and head coach of Under 19 team in Ireland in 2007. All in all, Gary Johnston has had an illustrious career.
BC Rugby

Jim Ryan
2009 Inductee - Builder
Now in his 47th year as a player, coach, manager and administrator Jim Ryan has helped many others enjoy the game and achieve success. When he was a lightning fast wing for Cowichan, Crimson Tide, Meralomas, British Columbia and Canada, Ryan knew how to cross the opponent's goal line and how to defend his own. He has coached several clubs while guiding the provincial Under 19 and senior men's teams to national championships. In 1993, his provincial Under 19 team was a Canada Games Gold Medalist in Kamloops.
Ryan began his coaching career with Meraloma Under 17 and in 1971, coached the Vancouver Under 19 that defeated Japan Schools. His most recent coaching assignment was with an Over 60 side that won the Gold Medal at the World Master's in Edmonton. As a manager, he was in charge British Columbia against Sussex in 1986, the USA Under 19 tour of New Zealand in 1994, the Fraser Valley Under 20 that won the National title in Newfoundland in 2007. Ryan has also managed the British Columbia Under 19 women is currently in his fourth year as president of the Fraser Valley Rugby Union.
Ryan has contributed significantly to every club with which he has been connected and to every age level provincial team. He is a member of the 1966 British Columbia team that is already in the BCRU Hall of Fame and now he enters it a builder.
BC Rugby

Tillman A. Briggs
2008 Inductee - Builder
Starting out as a player with the James Bay Athletic Association (JBAA) in 1956, Tillman Briggs became a player-coach in 1963 and was the club coach from 1965 to 1990. His illustrious coaching career included winning many Vancouver Island titles and a remarkable seven straight provincial club championships (and eight in nine years) with JBAA from 1974 to 1981 (Rounsefell Cup).
During his three year term as British Columbia coach from 1975 to 1977, his teams faced Japan, Barbarians, New South Wales Country, and England Under 23 and they were national inter-provincial champions (Carling Bowl) in the same years. In 1976, Briggs was the coach of British Columbia's centenary tour of England and Wales. On two of JBAA's tours, the club won the Windsor Borderers Tournament during its cross Canada tour in 1976 and the prestigious Monterey (California) National Invitational Tournament in 1980. Briggs was elevated to coach the Canadian national team in 1983 for its home matches against Italy and for its tour of England.
Throughout this time, he taught and coached at the secondary school level and in the spring of 1977 and 1978 his Victoria High School team was provincial champion. Players and coaches at the school, club, sub-union, provincial and club levels were quick to recognize Tillman Briggs' shrewdness and attention to detail in his coaching style and were always willing to lend support.
As the leading motivational force of the JBAA dynasty in the 1970's and early 1980's few, if any, match the level of success, respect and camaraderie Briggs built in his extraordinary coaching career.
BC Rugby

Spence G. McTavish
2008 Inductee - Builder
Spence McTavish's high level of performances and record during his rugby career as a club, sub-union, provincial, and national team player is without doubt. After a stellar career at UBC, he was a founding member of the UBC Old Boys for whom he played and later coached. All the while, he always coached at Lord Byng Secondary School. Having not yet been selected for BC in 1970, he was chosen to represent Canada against Fiji and by 1987 had become both BC's and Canada's longest serving player of international standing. He scored a try in his first game and seventeen years later was in the lineup for two of Canada's three appearances in the first Rugby World Cup. When long hair was in vogue, McTavish was a favourite with spectators who were thrilled by the sight of the wing three-quarter with long, blond hair streaking for the corner to score a try.
McTavish's 22 international appearances for Canada (1970 to 1987) were remarkable considering only one other Canadian player has had the equivalent longevity on the national team. His ability as a leader was verified by his captaincy for two of the four overseas tours made by Canada. On the 1979 Wales, England, France tour, he played in all six games and was captain for two. McTavish's talent was recognized overseas by his selection in 1976 to an Overseas XV against Cardiff.
In 1973 he received the Bobby Gaul Award as UBC's outstanding male athlete and in 1976 was awarded the VRU's Howie McPhee Trophy for playing ability, sportsmanship, and leadership. From 1971 to 1986 he was on the BC team that competed in the Canadian final most of the time.
McTavish's record in the fifteen-a-side game almost parallels his exploits in the seven-a-side version of the game. During his three years at the HK 7's, he was always the captain. From 1994 to1998, he returned to the game as a coach, preparing teams for international competitions, including Commonwealth Games and Rugby World Cup 7's.
Always a believer that one should lead by example, McTavish has provided ample evidence during his career for others to emulate in years to come. In the pre-professional era, he was a true professional with his high level of excellence during a remarkable career as an athlete.
BC Rugby

Lloyd Williams
2008 Inductee - Pioneer
Lloyd Williams began his rugby involvement in 1936 as a stellar player at Kitsilano High school in Vancouver and it ended in 1978 after he had served two years as the past president of the British Columbia Union. While he was still a schoolboy in 1940, Williams played for the Meralomas senior men when they won the Miller Cup and for the Vancouver representative team in the McKechnie Cup series. After leaving school, Williams joined the Royal Canadian Navy and formed a team from among the other recent recruits. When he was transferred to Victoria, he played for HMCS Royal Roads as well as the Victoria representative team. Overseas service with the Navy during World War II may have interfered with his playing career but it did not dim his enthusiasm for the game as he was instrumental in starting the Varsity Vets team in 1945 when he enrolled at UBC. Williams played for Vancouver several times until 1950, appeared briefly as a replacement when Vancouver played Australia in 1948 and served on the Vancouver Rugby Union executive from 1946 to 1949. In all, he played for all three unions in the McKechnie Cup series in the 1940's - Vancouver, Victoria and UBC.
Business and family commitments from 1951 to 1968 took priority for Williams but his desire to provide leadership in the British Columbia Rugby Union was demonstrated thereafter when he chaired the junior and senior selection committees and served as both vice-president (1972-74) and president (1974-76) of the Union. He was the Honorary Manager of the British Columbia team on its England - Wales tour in 1976 and was a director of the Canadian Rugby Union in 1976-77. In 1977 he was one of two Canadian Rugby Union Representatives at the inaugural pacific Rugby Congress in New Zealand.
First a player and later an administrator, Lloyd Williams' contribution to rugby over a forty-year period was interrupted only by commitments to military service, business and family.
BC Rugby

1958 BC Men's Team
2008 Inductee - Team
These 15 players provided one of the greatest moments in BC sporting history and a historic victory for rugby in our province.
The March, 1958, tour by the Australian Wallabies was a remarkable one for BC Rugby as it was the first time British Columbia had defeated a national team from another country.
The Wallabies, on their way back to Australia after touring the United Kingdom, played three games in British Columbia - two against the British Columbia Representatives and one against U.B.C.
The momentous victory over the powerful Wallabies occurred on the evening of March 15, 1958 in a thriller under the lights in front of a crowd of 6,643 at Empire Stadium in Vancouver.
Coached by Ken Banks and captained by Buzz Moore, the BC Men built up an 8-0 lead by the half on a try by the savvy veteran Ray Calton, and converted by Neal Henderson. In the second half, it was the speedy winger George Puil who scored BC's second try. Another of Ted Hunt's legendary kicks provided the additional three points needed to defeat the Australian Wallabies by a score of 11-8.
A team rich with experience, committed to defence and with some of the nation's finest athletes in the day, BC Rugby is proud to induct to the Hall of Fame, the 1958 BC Men's team that beat the Australian Wallabies.
Back: Peter Grantham, John Newton, George Sainas.
Middle: Gerald McGavin, Ray Calton, Peter Clarke, Neal Henderson, Bill Claridge, George Puil
Front: Greig Bjarnason, Ted Hunt, Jack Whitty, Buzz Moore, Tom Christie, Norm Blake
BC Rugby

Hans de Goede
2007 Inductee - Player
After playing but one year at Victoria High School, Hans de Goede spent his entire club career with James Bay Athletic Association. It was generally acknowledged that he was the heart and soul of the club's forwards and his selection to the Vancouver Island Crimson Tide, British Columbia and Canada fifteens from 1973 to 1987 was rarely questioned.
De Goede's reputation was first enhanced internationally in 1976 when he was selected for an Overseas International XV that was drawn from nine countries, to play in Cardiff RFC's centenary match. He subsequently spent the 1978-79 season with Cardiff, becoming the first Canadian player to spend a complete season with a first class overseas side, and was in the second row when they lost to New Zealand in October, 1979. In 1980, de Goede was on the losing Overseas XV side against Wales but on the winning side against North Wales in the Welsh Rugby Union's centenary matches.
A significant factor in de Goede's all-round ability was his three appearances for Canada at the Hong Kong Sevens from 1980-82, for which he was twice captain. First capped in fifteens for Canada against Tonga in 1974, the durable and charismatic lock was first asked to be its captain in one of the non-international matches on the 1982 Japan tour. His first international match as captain was against the USA in 1984. He continued in this role until1987 when he captained the inaugural Rugby World Cup squad in New Zealand. From 1974 to1987 he represented Canada 24 times in international matches.
De Goede was inducted into the Greater Victoria Sports Hall of Fame in 1996 and the British Columbia Sports Hall of Fame in 2007.
BC Rugby

Gareth Rees
2007 Inductee - Player
Destined for greatness since his days at Victoria's St. Michael's University School, Gareth Rees participated in an unprecedented four Rugby World Cups - 1987, 1991, 1995 and 1999 - and was the captain 1995 and 1999. After receiving his first under-19 cap in 1985 as captain against England Colts he attended Harrow School in England and in 1986 he was again captain when Canada under-19 defeated Welsh Youth. That year, Rees also received his first senior cap against the USA, thereby having the distinction of being Canada's only player capped at both the under-19 and senior level in the same year. Though he was one of the youngest players at age 19 in the 1987 World Cup, his previous year's learning with Harrow, Middlesex, Wasps in the 1986 John Player Cup final and on Rugby Canada's tour to Ireland was put to good use.
Rees' appearances at the Hong Kong and Sydney Sevens in 1988 brought attention to both his versatility and to his captaincy skills which were revealed in British Columbia's centenary matches against Japan, Ireland, New Zealand and Wales B in 1989.
During the 1990's, Rees was Canada's most recognized player on the world rugby stage where his peerless goal-kicking won countless matches, especially Canada's 1993 match against Wales in Cardiff. After playing for University of Victoria, Castaway Wanderers, Vancouver Island Crimson Tide, British Columbia and Canada. Rees pursued a career overseas with Newport, Bedford, Merignac, Wasps and Harlequins. He won two 'Blues' while attending Oxford University in the annual Varsity match and played for the Barbarians three times on their Easter tour of south Wales and again against Leicester. Other overseas representation included appearances with La Cote D'Argent, Public School Wanderers, Penguins, Irish Wolfhounds, Major Stanley XV and Crawshays XV.
While with Wasps in 1996-97, he was the top point scorer in England's Courage League Division One won by Wasps. In 1997, he captained Wasps against a World XV for the Sanyo Cup. Playing fullback in May, 1999, he equaled the individual record for a Cup final with 16 points when Wasps captured the Tetley's Bitter Cup and the English League knockout club title.
When Rees captained Canada in the 1999 rugby World Cup in France, he made all 19 attempted kicks at goal. He retired from international play with a total of 492 points in 55 appearances for Canada, 25 of them as captain. In 2000, the Rugby Union Writers Club of Britain awarded him its Special Award, only the sixth person to be honoured.
The two-time University of Victoria Athlete was also inducted into the Greater Victoria Sports Hall of Fame and truly left an indelible mark on the game with his accomplishments and longevity both in British Columbia and overseas.
BC Rugby

Mark Wyatt
2007 Inductee - Player
After appearing in all three Rugby World Cup games in 1987, Mark Wyatt became the second Victoria player to captain a Canada World Cup team when he led it in 1991 in France. His kicking talents first came to the fore in 1980 at Oak Bay Secondary School and then with James Bay Athletic Association for a year before honing and applying them with University of Victoria, Velox RFC, Vancouver Island Crimson Tide, British Columbia and Canada. Capped 29 times between 1982 and1991, he was Canada's top point scorer with 263 when he retired in 1991.
Comfortable at fly half or full back, his ability to kick with either foot made him a selector's dream. In 1991 against Japan, he kicked seven conversions, one penalty goal and scored his first try ever try for Canada, and in the same year against Scotland he established a world record with eight penalty goals.
Wyatt's abilities were recognized not only in Canada but also overseas where he played for the Barbarians against the North of England in 1988 and against Cardiff and Swansea during their 1991 Easter tour of south Wales. He also gained a place in 1991 for the World Invitational XV against Australia in celebration of that country's bicentennial. In his seven appearances for Canada in the Hong Kong Sevens between 1983 and 1991 he was captain three times.
Twice named Victoria's Male Athlete of the Year and inducted into the Greater Victoria Sport Hall of Fame, Wyatt's value to rugby as a player and leader was without question not only to British Columbia but also to his school, club and country.
BC Rugby

Ken W. Banks
2006 Inductee - Builder/Coach
Ken Banks began his thirty year involvement with rugby in 1937 as a clever scrum-half with the Meralomas, continued in 1939-40 with the Vancouver Representatives and ended as Canada's coach against England in 1967. In the interim he coached the Meralomas from 1948 to 1964 and British Columbia from 1952 to 1967. It will be a long time before his coaching record will be equaled when one considers the opposition his provincial teams faced in that period: Queen's University (Belfast), New Zealand All Blacks (three times), Oxford-Cambridge Universities, Barbarians, Australia (twice), Ontario, Eastern Canada, British Lions (twice), Yawata Iron and Steel (Japan), Japan and New Zealand Universities. Add to this list British Columbia's tours to Eastern Canada and to Japan and Kats tour to Japan, for which Ken was the manager.
With his vast knowledge of the game he was one of the four selectors on the Rugby Tours Committee that chose the Canada team to tour the British Isles in 1962.
He was secretary of the Canadian Rugby Union (now Rugby Canada) in 1965-1966, president of the BCRU in 1969-70 and the Jack Patterson Memorial Trophy winner in 1975-76.
Ken's coaching expertise, coupled with his sense of humour and conversational skills with people from within and outside of the rugby community, placed him at the forefront during his lengthy rugby career.
BC Rugby

James B. Dunbar
2006 Inductee - Builder/Referee
Like many referees before him, Jim Dunbar played school and club rugby before taking up the whistle. Following a ten year stint as a player with the Meralomas he chose to stay involved with the game as a referee. From 1955 to 1975 he officiated countless club and representative matches as well as the lowest level school contests. On more than one occasion he said that refereeing school games sharpened his fitness and decision-making.
Players and budding referees not only in British Columbia but also in Washington, Oregon and Alberta were the recipients of Jim's instruction in the Laws of the Game and its variations.
When he was awarded the Jack Patterson Memorial Trophy in 1966, Arv Olson, the Vancouver Sun sports writer, said that although players may have cursed Jim, they had a high respect for his judgment. After driving to Oregon with Jim, a passenger remarked: "This Dunbar guy is the greatest-ever joke teller, manager, coach and all-round traveling bum you'll ever find-let me recommend him."
Jim revealed his administrative abilities as a president and director of the Meraloma Club and as the BCRU chairman of referees and it was only fitting that he was chosen to referee Canada's 2nd and 3rd home internationals, against England and Fiji.
BC Rugby

Richard C. Ellis
2006 Inductee - Builder
Richard C. 'Dick' Ellis passed away as a result of a scuba-diving accident in 1974 having compiled an enviable career as a player, coach, selector and administrator. Possessing a unique and comprehensive knowledge of every aspect of the game at the club, provincial, national and international levels, he was president of the Canadian Rugby Union (now Rugby Canada) at the time of his death.
Subsequent to his playing days at Magee, Vancouver Rowing Club and Oak Bay Wanderers, Dick presided over Oak Bay, the Victoria Rugby Union, the BCRU, was the first president of the BC Sports Federation, one of the first trustees of the BC Sports Hall of Fame and Museum and a director of the Canadian Rugby Union after its formation in 1965. As the 1967 Jack Patterson Memorial Trophy winner he exemplified leadership and organizational ability.
Dick was accorded the rare honour of being appointed the manager of the Canadian team for two overseas tours: in 1962 to the British Isles and in 1971 to Wales. He was one of Canada's representatives at the Centenary World Congress of the Rugby Football Union in 1970 and the Scottish Rugby Union's Centenary celebrations in 1972.
Dick's successful rugby calendar did not prevent him from pursuing many recreational interests while conducting a successful law practice. His ambition and commitment knew no bounds.
BC Rugby

Derek Hyde-Lay
2006 Inductee - Builder
Derek Hyde-Lay was a fixture at Shawnigan Lake School for almost 50 years. He brought his love for rugby to British Columbia after playing with the Royal Navy during the Second World War, where he was part of the D-Day invasion force in June, 1944. Though he coached the first XV rugby team at Shawnigan Lake from 1948 to 1998, while he was on the staff as a teacher, he also coached track and field at the school.
Considered an excellent player for the Vancouver Rowing Club, Vancouver, Oak Bay Wanderers, and the Victoria Crimson Tide, he was also one of the founders of the Cowichan Rugby Club for whom he also played and coached.
As a young man he was more than competent in several back positions but ended his playing career in the front row.
Derek organized the fall BC Secondary Schools championship during the BC ferry strike in 1977, was an assistant coach and manager of the Victoria Crimson Tide in the late 1980's and ended his teaching career as Headmaster of Shawnigan Lake School, where the Pavilion is named after him.
Most certainly his influence at Shawnigan Lake School was immense but anyone who had ever met Derek came away with the feeling that you had met a very special man. For not only had he taught four generations of school and club rugby players but he also percolated a love for the game, optimism, wisdom and the importance of values in the classroom, on the rugby field and in the family.
BC Rugby

Leonard S.F. Leroy
2006 Inductee - Pioneer/Player
Born and schooled in England, Leonard Leroy was the premier player in Vancouver for eight years at the club, city, provincial and international levels. In 1966, he was one of the original nominees for the BC Sports Hall of Fame but was not selected.
Len came to Vancouver immediately after he left school and joined the Vancouver Rowing Club in 1925, the year he was selected to play for the Mainland against the New Zealand All Blacks. He captained the Club from 1928 to 1930 from his centre position until he retired in the mid Thirties.
A Vancouver Rowing Club member who saw him play said that as a back he was a joy to behold for he could do everything and do it remarkably well.
Probably the most talented back to play in the 1925-1935 decade, Len made more appearances than did any of his peers against the touring sides from New Zealand, New South Wales and Japan. He captained Canada on its tour to Japan in 1932 and though injured in the first match he returned to play in the last two, including the second test.
BC Rugby

Emslie L. Yeo
2006 Inductee - Pioneer/Referee
Born in Victoria, Emslie "Buck" Yeo's major's accomplishments were in coaching and refereeing in Vancouver after he had attended McGill University. He taught, coached and refereed rugby and basketball at King Edward High School before becoming a senior referee. From the time he began officiating McKechnie Cup matches in the early 1920's until he did his final games in 1939 his overall record was without parallel. When he was not carrying the whistle he was a touch judge.
He served as the Chairman of Referees for both the Vancouver and British Columbia Rugby Unions as well as officiating matches against New Zealand All Blacks, in both 1925 and 1936, New Zealand Maori, New South Wales Waratahs and Japan. In 1936, the All Blacks requested that he be the referee.
The World Cup matches between UBC and an American university benefited from Buck's officiating as did the New Zealand Shield school matches for which he did every match but one from 1925-1938.
In the book First Fifty Years: Vancouver High Schools 1890-1940, it is stated that "Mr. Yeo, himself an old rugby player, brought a wealth of knowledge and enthusiasm to the coaching of many of King Edward's rugby and basketball team, and came to be regarded as the dean of rugby referees of Vancouver." He took a sabbatical from teaching during the Second World War and ended his career as principal of Magee Secondary School.
BC Rugby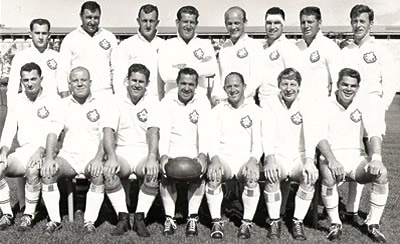 The 1966 BC Men's Team
2006 Inductee - Team
In one of the most brilliant matches in Canadian rugby history, the 1966 BC Men's team defeated the British Lions by a score of 8-3 at Empire Stadium in Vancouver. The date was September 14th, 1966, and a try by Peter Grantham, converted by Don Burgess, cemented the "victory for the ages" in the proud history of rugby in British Columbia.
Back: Ross McDonald, David Milne, Dick Layzell, Bill Taylor, Mike Chambers, Chuck Pentland, Al Bianco, Tom Browne.
Front: Jim Ryan, Gary Fumano, Peter Grantham, Ted Hunt (captain), Don Burgess, Tim Cummings, Brian McKee.
BC Rugby

Jack Bain
2005 Inductee - Player/Builder
Jack Bain began playing rugby at age fifteen and continued to play as a top-level player for fifteen years from 1924 to 1939. After his playing career ended, he remained involved in the sport as a coach, referee, and administrator and was honoured as a pioneer of the BC Sports Hall of Fame to which he was inducted as a builder in 1977. In the 1930's, playing lock and known as a superb lineout jumper, he was acclaimed as one of Canada's finest rugby athletes and in 1932 was selected to the Canada team that toured Japan, winning a cap in the second test.    
The 1936 visiting New Zealand All-Blacks were so impressed with his play that they selected him to play on their North Island All-Black team in an exhibition game against their South Island All-Black team during their 1936 visit to Canada. In 1939 he was selected to the BC Rep. team that toured California.
    
Following his playing career, Jack coached his club, the Vancouver Meraloma Club, and was President of the Vancouver and BC Rugby Unions. He was also a co-founder and Director of the BC Lions Football Club; and a member of the British Columbia Centennial, the BC Summer Games, and the 1954 British Empire Games committees. Jack received the Order of Canada in 1967.
BC Rugby

Don Burgess
2005 Inductee - Player/Builder
Don Burgess' lifetime rugby career in British Columbia showcased his skills as a stunning player and a brilliant coach. For his more than 45 years of service and contributions to rugby in BC, he was awarded the prestigious Jack Patterson Memorial Award by the BC Rugby Union in 1966. Don's rugby magic brought success to the teams he played with and coached, and earned him headlines in the British press as a member of the Canadian National team in 1962, as "Burgess Superb" and "Brilliant Burgess."
On that three-month long tour in 1962, Burgess earned two Canadian caps playing against the Barbarians and Wales.
Though primarily a fullback, Don also played scrumhalf, standoff and centre, but no matter where he played on the field his elusive side-step, pinpoint accuracy as a place-kicker and thumping tackles earned him renown and envy.
Don was an active player with the Oak Bay Wanderers and after hanging up his boots he took on the role of Club Coach and served in that capacity for 21 seasons. He was also a high school coach for 35 years and, along with Paul Horn, coached the B.C. Under-19 team, which won 11 Canadian Junior Championships. He also coached the Canadian Under-21 team to three North American Under-21 titles. He was honoured as Canada's first National Coaching Organizer, and was instrumental in establishing the National Coaching Certification Program.
Don achieved international notoriety as a rugby inventor for his "Burge" Kicking Tee, an innovation still used by place kickers worldwide.
    
He was inducted into the BC Sports Hall of Fame in 2000 as a builder.
BC Rugby

Barrie Burnham
2005 Inductee - Player
As Canada's premier fullback and goal-kicker for 10 years, Barrie Burnham's record speaks for itself. He played internationally, nationally and provincially with a keen competitive edge and a winning formula. His exceptional goal-kicking skills, punting with both foot, and intuition for strategic positioning, more than justified his selection to every level of the game during the period between 1962 and 1971. Barrie was selected in four of Canada's six international matches between 1966 and 1971, scoring just under half of Canada's points in those games, and was the only player to be chosen to participate on two of Canada's international tours in 1962, and nine years later, in 1971.
His accomplishment on February 26, 1966 is one that will likely never be equaled and it is one that earned him a place in the Guinness Book of Records. On that day, Barrie's Meraloma team defeated the Georgians 20-11 at Brockton Oval with Barrie scoring all 20 points. Not unusual for Barrie that he scored all of his team's points, but on this occasion he scored the twenty points in every possible way that the laws of rugby allowed at that time. He scored a try, a conversion, three-penalty goals, a dropped goal, and a goal kicked from a mark, and since kicking a goal from a mark is no longer permitted, his unusual achievement will never be equaled.
At age 34, in 1972, a boating accident caused serious injuries to Barrie's legs that required over 300 stitches. Doctors thought he would be lucky to walk again, but with awe-inspiring determination and after prolonged physiotherapy, he returned to the rugby field to be selected to play for Canada against Fiji.
In 1998 he was inducted into the BC Sports Hall of Fame in the athlete category.
BC Rugby

Peter C Clarke
2005 Inductee - Player/Builder
Since coming to Canada from England in 1957, at age 27, Peter Clarke has been a representative player, a captain, a coach and a tireless administrator at club, provincial and national levels.
Though long connected with the Cowichan Rugby Club, Peter began his rugby career in Canada with the Oak Bay Wanderers, in Victoria, captaining the club from 1957 to 1960. He also captained the Crimson Tide and played for BC on many occasions, however none are more memorable than when, in 1958, BC beat Australia 11-8.
In 1962, Peter moved North from Victoria to the re-activated Cowichan Club, where he assumed the captaincy and coaching positions and also became its Founding President. After his playing career ended, he continued coaching the club's teams at various levels. In the 1980s and 90s, he served the Club in assisting with the planning of the five-acre facility in the Cowichan Valley.
As an administrator, Peter has held numerous positions. At various times he's been Secretary of the Victoria Rugby Union, President of the V.I.R.U., a Director, and later President, of the B.C. Rugby Union, and from 1974 to 1976 President of the Canadian Rugby Union. He has been a selector for BC and Canada, and a manager for the BC Senior team (1966-68), and Canada Senior team (1977-1981).
Peter has represented the Province and Canada at a number of overseas meetings in Japan, Australia, Scotland, New Zealand and, in particular, at the Irish RFU Centennial Celebrations. Peter was awarded her Majesty the Queen's 25th Anniversary Medal for Services to Rugby in 1977, the Jack Patterson Memorial Trophy for contributions to the BCRU in 1980, and the VIRU Trophy "In Appreciation for Decades of Service and Vision" in 1996.
BC Rugby

Jan Curnow
2005 Inductee - Builder
Jan Curnow began refereeing in 1969 after playing representative rugby in the UK and in BC. He also played Rugby League professionally for six years before immigrating to BC in 1963 where he played for Cowichan, Oak Bay and the Crimson Tide.
After refereeing at club and sub-union levels, Jan was appointed to his first major game between BC and the New Zealand All Blacks in 1972. Further appointments saw him referee numerous high profile tour matches in BC and several tournaments across North America.
In the 1970s, Jan became the first Canadian to officiate international games. He took charge of games between Canada and; Wales, Tonga, Fiji, Italy, England and France, as well as the second Can-Am game involving Canada v USA in Calgary, 1977. He was the first Canadian to be appointed as a neutral referee in an international between the USA and France in June 1976, in Chicago.
In the 1980s, Jan accepted a position on the Refereeing & Laws Committee of the Canadian Rugby Union. In this capacity, he served as an assessor, selector, and then Chairman of the Referees Committee and Vice-President of the CRU. During his ten-years on the Referee's Committee, Jan revamped methods for the selection and training of referees, and also held clinics across Canada that were supported by the CRU and Provincial Societies. He standardised law interpretation, publishing those interpretations and rulings in conjunction with the IRB Laws and Rulings Committee. He developed a training program of certified levels (1-2-3) for referees to work in parallel with coaches, an innovative concept for the time.
Although officially retired from first class refereeing in 1982, Jan continued to referee locally at the Under-14, Under-12, and Mini-Rugby levels in Victoria, and continued to act as an assessor/mentor/coach on Vancouver Island.
BC Rugby

Alex Mahood
2005 Inductee - Player/Builder
Alex Mahood has been known as the "heart and soul" of rugby on the North Shore of Vancouver since the 1960s.
Alex graduated from North Vancouver High School, after which he took a job in the North Shore shipyards building freighters for the war effort. As soon as he was old enough, however, he enlisted in the army and was posted overseas in England and France. After the war, Alex worked at the world-renowned G.F. Strong Rehabilitation Centre until his retirement in 1983.
Upon his return to the North Shore after the war, Alex began playing rugby for the North Shore All-Blacks and continued playing for them until 1964, becoming the club's longest serving playing member. During his playing career, he also played for the Vancouver Reps., the Nor-West Reps., and BC in some memorable matches against the Australian Wallabies, Queens University, Belfast, and the combined Oxford-Cambridge University side.
Upon his retirement, after 18 playing seasons, Alex took up coaching the North Shore All-Blacks and the Nor-West Reps.
After the amalgamation of the North Shore All-Blacks and the West Vancouver Barbarians in 1969, Alex became very involved in the development and growth of the newly formed Capilano Rugby Football Club and continued to serve on the Club's Executive Committee as Director of Grounds. He was pivotal in the establishment of Klahanie Park as the home of rugby on the North Shore and in the building of "Bob Spray" field, and the clubhouse, which includes the "Alex Mahood Room".
Alex has received many awards for his contribution to sport and rugby, including being elected as a Life Member of the Vancouver Rugby Union and the Capilano Rugby Club. Alex was the recipient of the Jack Patterson Memorial Trophy in 1969 and, in 2005, received the Lifetime Contribution to Community Sport Award at the North Shore Sports Awards.
BC Rugby

Douglas L. "Buzz" Moore
2005 Inductee - Player/Builder
In 1925, at the age of four, "Buzz", or Douglas to use his given name, moved to Vancouver from Regina. While at Vancouver's Lord Byng High School, he excelled at football, skiing, and rugby. He showed such promise in rugby, that at the age of 16, he joined the Meraloma Rugby Club and began playing for the senior side. This started a storied senior rugby career that would last twenty-eight years, a career only interrupted by Buzz's service with the Royal Canadian Navy during World War II.
When Australia came on tour in 1948, Buzz captained both the BC and Canada sides against the Wallabies. From then until 1962, he would lead his province and his country against Australia, New Zealand, England, Scotland, Wales, Ireland, USA, Japan and Fiji.
At the age of 42, he led Canada on a three-month long tour of Great Britain during which the famed Barbarian Club, as was the custom, asked him to play for them against his own side. Buzz declined, and led his Canadians to a 3-3 tie after which the Barbarians made him an "Honourary Barbarian" - one of rugby's highest honours.
He played in, and usually captained, every international match BC played from 1948 until 1964. At forty-five years of age, Buzz captained the BC side to win the 1965 Canadian Rugby Championships, retiring from play at the end of that season.
During his career, Buzz held numerous administrative positions including Coach and President of the Meraloma RFC, President of the BC Rugby Union, and President of the Vancouver Rugby Union (1954-1966). For his long serving involvement with the University of British Columbia Athletics Department, the university bestowed a Doctor of Laws Degree on him in 2002.
He also received the Howie McPhee Memorial trophy in 1948 as Vancouver's outstanding rugby player, the Jack Patterson Memorial Trophy in 1975 and was inducted as a builder into the BC Sports Hall of Fame in 1967.
BC Rugby

Ernest Pinkham
2005 Inductee - Pioneer
Ernest Pinkham played for Vancouver from1927-1937, and as a nineteen year old, played on the wing against the New Zealand Maori at Brockton Oval in 1927. He also played for BC and Vancouver against Japan in 1930. Ernest was born in London, England in 1908 and came to Canada first in 1919, to Toronto, when business brought his father to Ontario. The family later returned to Britain where Pinkham took up rugby as a boarder at Merchant Tailors' School near Liverpool. In 1925, the Pinkhams returned to Canada, this time to Vancouver where Ernest and his two brothers, Arnold and Esmond, played rugby at King George High School.
All three joined the Vancouver Rowing Club after graduation and Ernest captained the club in the 1930/31 season.
In 1932, Ernest was selected to the Canada team to tour Japan where he played in six of Canada's seven matches, scoring seven tries and tying for top try-scorer. Injury prevented him from playing in the first test against Japan, but he played in the second test, winning his cap.
Of his tour to Japan Pinkham commented, "The trip to Japan was one of the highlights of my life. To cross the Pacific Ocean by ship and play for your country in a foreign country was a great thrill. We played well. We didn't make fools of ourselves and make Canada look bad. We put on a good show. It was a good team and we tried hard and gave a good account of ourselves. They were a hell of a nice bunch of guys and we made friendships that lasted a lifetime."
BC Rugby

Robert Spray
2005 Inductee - Builder
Robert, or Bob, Spray is remembered as the "Father of the Canadian Rugby Union."
The Canadian Rugby Union first formed in 1929 but dissolved in 1939 because of the Depression. Because of the vision, effort and hard work of Bob Spray, the Canadian Rugby Union was reborn in 1965.
Bob came to Canada in 1947, took up refereeing, and from 1949 to 1952 was Chairman of the Referees Committee. Following his tenure in that position, he became President of the British Columbia Rugby Union, serving in that capacity for six years until 1958.
During his time in office, he put BC on the rugby-playing map by establishing a liaison with the rugby countries of the world. His efforts brought a constant flow of world-class touring international teams like the New Zealand All-Blacks, British Barbarians, British Lions and Australia's Wallabies to BC. He also arranged reciprocal tours such as the BC tour to Japan in 1959, and the Canada tour to Britain in 1962. Bob also worked to bring about the Canadian Inter - Provincial Championship.
Bob used his international connections to lobby the International Rugby Board for Canadian membership in the world body. This he achieved, almost single-handedly, in 1965 when the Canadian Rugby Union re-constituted itself after twenty-six years. He was elected the first President of the new body and served in that capacity for seven years.
Bob's outstanding administrative capabilities and his gentlemanly manner made him a great ambassador for British Columbia on the world stage. In 1964, when the Vancouver Sun newspaper donated the Jack Patterson Memorial Trophy to be presented to the most deserving rugby person in the province each year, Bob Spray was the first recipient.
He was inducted to the BC Sports Hall of Fame in 1975 as a builder.
BC Rugby

Reginald Woodward
2005 Inductee - Builder
Reginald, or Reggie, and his brother Charles came to Vancouver, from England, in 1887. Reggie helped establish rugby in British Columbia and remained active for seventy years as a player, coach and administrator. He participated in what was reported as the first organized rugby match in Vancouver, on the Cambie Street grounds, and helped build the oval at Brockton Point so that cricket and rugby teams would have a place to play. In addition to his achievements in rugby, Reggie was also an active rowing athlete.
He was one of the founding fathers of the BCRU, representing the Vancouver delegation at the founding meeting in New Westminster in 1889. He played local, national and international rugby until 1909 and coached for many years. He was instrumental in organizing the first rugby tours to California and encouraging touring teams to come to Vancouver. In 1908, he persuaded the Vancouver Rowing Club rugby team to join the City Senior League, and in 1910 the Rowing Club won the Miller Cup, going undefeated during that season and scoring 186 points to 5.
Reggie became the Vancouver Rowing Club's Captain in 1916, served on the executive, including being its President from 1919 to 1921, a Director until 1928, its Vice - President until 1933, and Honourary Vice - President from 1933 onward. His seventy-six year membership in the Vancouver Rowing Club made him the longest continuous member for the Club, for which he was made a Honourary Life Member.
He acted as a representative for BC at the formation of the Rugby Union of Canada in 1929, and was inducted into the BC Sports Hall of Fame in 1967 as a Builder.
BC Rugby