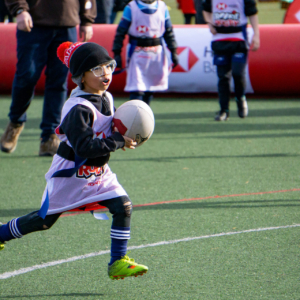 Isaias Parto just loves playing Rugby. From the moment he saw the floodlit fields at Burnaby Lake for the very first time, he was hooked.  
Burnaby native Isaias and brother Tobias began playing Lacrosse in September 2019. Their coach, whose daughters both played Rugby, soon spotted how quick and agile the brothers were. He suggested they gave Rugby a go to help develop their footwork.
Isaias and Tobias attended a trial day at nearby Burnaby Lake Rugby Club. It was here that Isaias' love for the game blossomed. 
As he walked out onto the floodlit fields at Burnaby Lake, Isaias was mesmerised by the hub of activity around him. Kids and adults were training next to each other on the same fields: everyone was welcome here. 
Isaias loves the inclusive atmosphere at Rugby. While some of the other kids had been playing for years, both he and Tobias felt instantly welcome on arrival at Burnaby Lake.
Their mother, Donna Parto, championed how supportive and enthusiastic the coaches were. Their ICE Breakers and Welcoming Drills immediately helped get rid of their nerves. At the end of the session, Tobias would not leave the field – he just laid down and looked up at the sky! Both brothers joined Burnaby Lake Rugby Club for one season. 
While the global pandemic unfortunately disrupted his journey, Isaias keeps pestering his mother when he will be allowed to return to doing what he loves: playing Rugby.